nimbu can be used on many MIDI keyboards with and without automatic accompaniment - from piano to organ. For playing, the keyboard is subdivided by software. Left you play the chords, right the melody.
In the middle you define some keys for control or you play title-related accompaniments with the Sync/Stop function alone. Or you control nimbu directly on the keyboard with a tablet or pad. Power Strips® are ideal for attaching tablet and pad.
You can also play only with master keyboard. Completely without screen or tablet.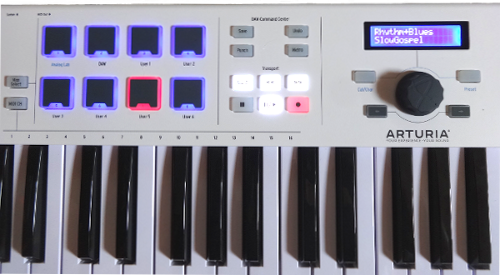 All performance functions can be controlled via MIDI. The technical requirements can be found here.

12 of the 24 accompaniments of one session are available in real time. Each accompaniment can record up to 21 markers. Markers are song positions that are directly jumped to via buttons when playing. nimbu shows you the current time signature and the playing position within the time signature. You can jump from any accompaniment to any intro, bridge or main marker of another accompaniment. In real time. The instrument setup of the new accompaniment is taken over "on the fly".

nimbu comes with 100 fantastic rhythms, divided into 5 genres, which can be accessed via this Session panel. But these 100 sessions are much more than that, as new sessions are simply created from them. In addition, 5 collections are designed for 100 of your own accompaniments or your own playlists, so up to 200 accompaniments can be accessed via this panel. The names of the Sessions and Collections are set by yourself. And of course you can create as many Session Panels and Sessions as you want.

The functions of the Session Panel can be controlled completely via MIDI or a master keyboard. nimbu switches also the real backlight LEDs, e.g. on a master keyboard, whose display also shows the names of the Collection and the session.


"Power Strip" is Registered Trademark of tesa SE, 22848 Norderstedt, DE