Compatibility and Modularity at its best
nimbu comes complete with 100 rhythms and 2 integrated synthesizers (sound modules) and is ready to play after a few settings. You only need to be familiar with a PC and have already installed other PC programs. Besides your PC you only need a MIDI keyboard.
nimbu has a modular structure and is equipped with many interfaces. So you can connect your keyboard to your PC and play incredible accompaniments with Sync/Stop only. Or use high-end audio devices, sound modules and controllers of your choice. Or run nimbu on the latest tablets. You can even assemble the instruments. You can also play nimbu completely with a master keyboard only. If you don't have a keyboard yet, we recommend purchasing a KEYLAB61 master keyboard from the manufacturer ARTURIA.
Can be used with many systems.

With top-class virtual instruments.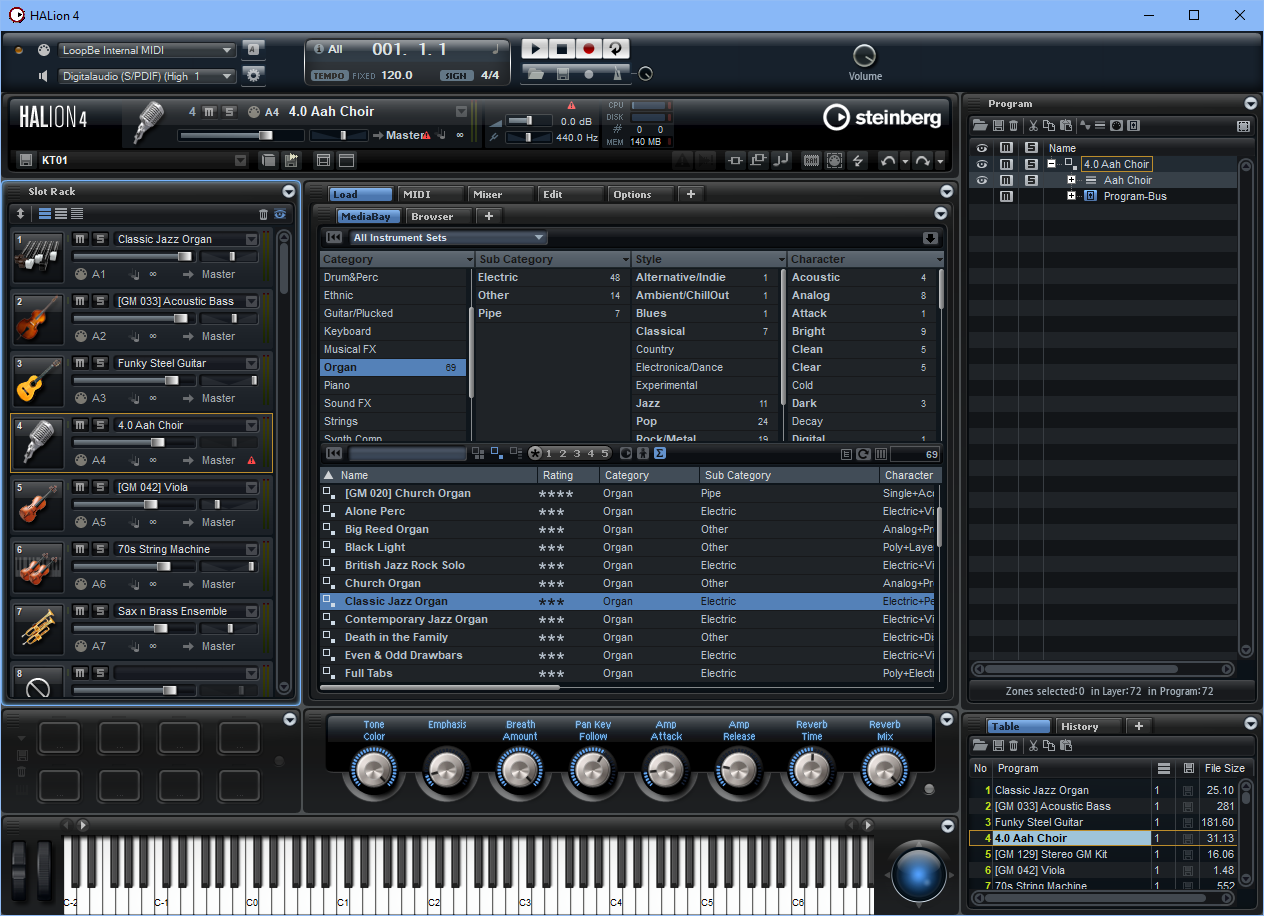 Playing with this auto accompaniment, this music and these instruments is endless fun.
If you are interested, you should read the following requirements carefully. If you have any questions, just ask us
here
.
Your PC
The following operating systems are required
Microsoft® Windows® 7
Microsoft® Windows® 8.1
Microsoft® Windows® 10
(Microsoft und Windows are Registered Trademarks of Microsoft Corporation.)
As hardware a PC, notebook or tablet is required with at least
2 Ghz clock rate or 1.6 Ghz for systems with 2 processor cores
2 GB main memory
2 USB interfaces for MIDI keyboard and nimbu USB license stick or USB hub
MIDI USB interface, if a keyboard or expander with 5-pin DIN MIDI socket is to be used
real-time HD audio device, which is built into most systems today, some even with optical output,
optionally with WDM KS, ASIO®, Direct Sound or WASAPI driver
Screen with minimum horizontal resolution of 1280 pixels.
Control directly at the Instrument optionally via
Keyboard keys
Touch Screen
Windows Tablet or Notebook with Touch Screen, on which nimbu runs (1.6 Ghz are sufficient with 2 cores)
Master Keyboards, MIDI Controller und MID Pads
or WLAN with an additional

iPad® Tablet
Android® Tablet
Windows® Tablet
(iPad is Registered Trademark of Apple Inc., Android is Registered Trademark of Google Inc.)

nimbu has two integrated synthesizers that convert notes into instrument sounds in real time. nimbu lists the suitable audio devices so that you can select the device driver with a little instruction.
Your Sound
nimbu comes with a sound library for the instruments and is ready to play after a few settings. So-called Soundfont® libraries are used, which define an open standard. These libraries are available in excellent quality at comparatively low cost, some of them even free of charge. nimbu plays with soundfonts you provide. On request we provide our customers with sources of supply for soundfonts.

You can use virtual instruments (VST® Instruments) of the highest quality. Since these instruments run parallel to nimbu, you have to take care of a suitable system configuration. nimbu works very efficiently, so that processors with 4 cores and 3 Ghz clock speed as well as 4 GB main memory are sufficient for a start.

Basically nimbu uses the MIDI interfaces that are passed on to nimbu by the operating system. So if you are familiar with a MIDI or USB sound module or a MIDI keyboard, you should have no trouble using it as a sound module.

Last but not least a powerful stereo amplifier with good loudspeakers is needed. The sound systems mentioned here produce an expressive sound and an excellent surround sound. Both, however, can only be fully exploited with a good amplifier and loudspeaker system.



Your Keyboard
Basically you can play nimbu with any keyboard instrument that has a MIDI OUT interface. It should have a keyboard range of at least 5 octaves. Keyboards with and without auto accompaniment can also be used for sound generation, provided they have a MIDI IN and a MIDI OUT interface. If you already own an instrument or keyboard and are unsure, just ask us.
If you want your melody to sound on this instrument, your instrument must have a spilt keyboard function, if your chords should not sound on this instrument. Unless there are 2 manuals so that you can use one for the accompaniment. In both cases an additional mixer is required to mix melody and accompaniment before the amp. This mixing function can also be done digitally in the PC.


Perform with your own setup. Here is our offer.


SOUNDFONT ist Registered Trademark der E-MU Systems, Inc., 95067-0015, Scotts Valley, US.
VST ist Registered Trademarks der Steinberg Media Technologies GmbH, 20097, Hamburg, DE